Armenia protests escalate after police turn on demonstrators
Public anger over steep increase in electricity prices spreads beyond the capital as Russia compares demonstrations to Maidan movement in Ukraine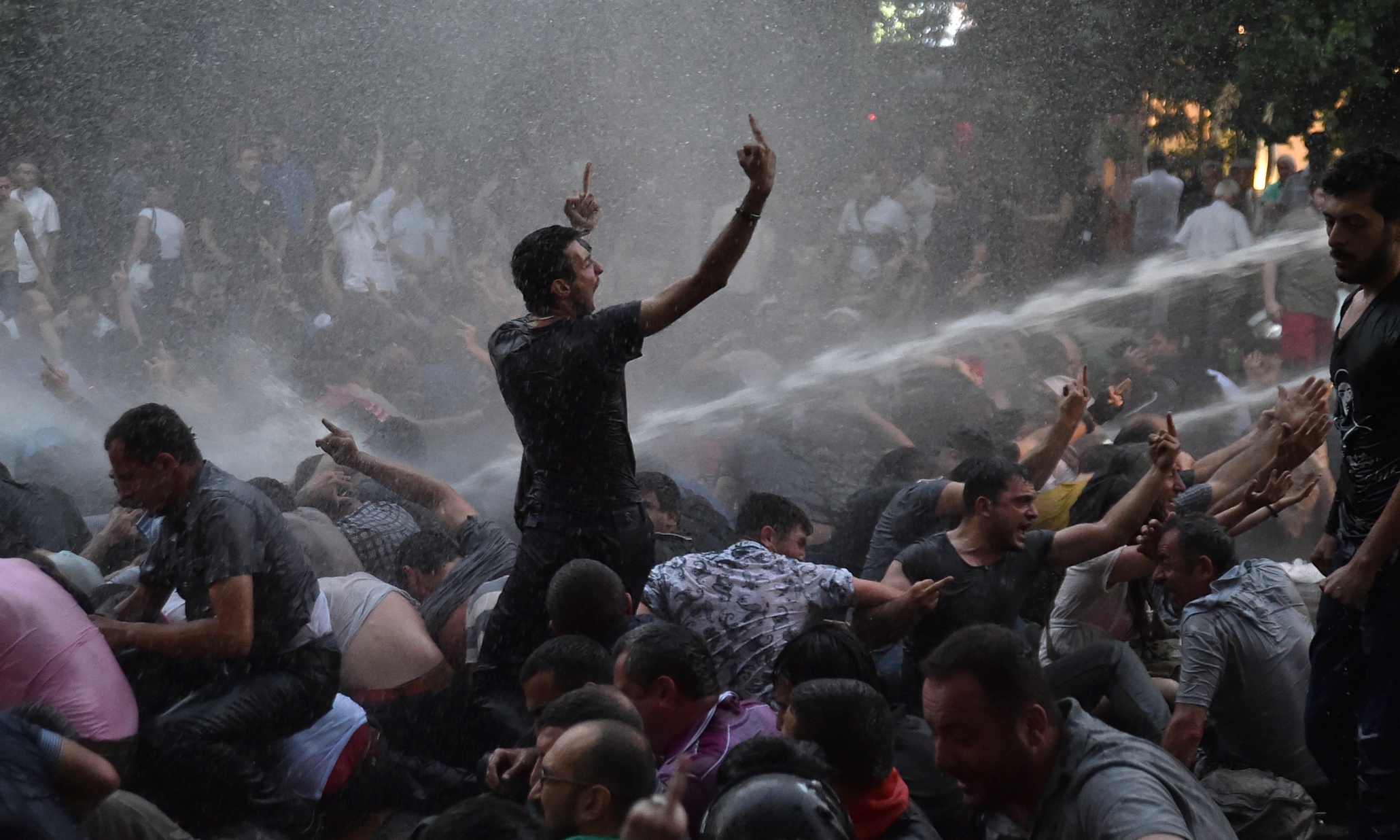 Thousands of Armenians have taken to the streets to protest against electricity rate hikes, marching on the presidential palace and staging all-night sit-ins around the main square of the capital, leading to fears in Moscow of a Ukraine-style popular uprising.
The protests in Yerevan, which began on Friday, escalated significantly after police fired water cannons to disperse seated demonstrators on Tuesday morning. By Wednesday evening thousands of people had gathered on Marshal Baghramyan Avenue near the presidential palace, chanting slogans and blocking traffic.
In the early hours of Wednesday, ruling party politicians and others formed a human shield between police and protesters, although negotiations over a potential meeting with the president, Serzh Sargsyan, fell through for the second night.
Smaller-scale protests spread to the cities of Gyumri, Vanadzor and Charentsavan, Armenia Today reported.
"A lot more people came on [Tuesday] because they understood that you can't just drive people out like that," Nikolai Torosyan, a journalist at the site PanArmenian.net, who has been attending the demonstrations. "They came to protest not just against the electricity price hike but also against the rough way protesters were dispersed."
The sit-ins began on Friday near Yerevan's opera house. On Monday night demonstrators marched toward the presidential residence, where they remained through the night. On Tuesday morning riot police sprayed seated protesters with water cannons, then marched forward to force them out. In video of the events, several bulky men in civilian clothes can be seen grabbing protesters and dragging them behind the police line.
According to police, 237 people were detained and seven demonstrators and 11 policemen were injured. They were later all released.
Torosyan told the Guardian that although he was wearing a press badge, police knocked him down and kicked him as they confronted protesters on Tuesday. Other journalists reported having their cameras broken or confiscated by police.
The protests flared up in response to a decision on 17 June by the state utilities commission to raise electricity prices by 17 to 22%, at the request of Electric Networks of Armenia, which has a monopoly on distribution. The utility company is fully owned by the Russian company Inter RAO, which is headed by Igor Sechin, a close ally of president Vladimir Putin.
The price hike, which will come into effect on 1 August, is the third in the past two years and provoked anger in the poor landlocked country of three million, where unemployment was reportedly 17% in 2014 and has been rising.
Armenia's growing economic woes are closely tied with those in Russia. The rouble lost half of its value in 2014 amid falling oil prices and western sanctions over Moscow's role in the Ukraine crisis. As a result, remittances sent home from by Armenians working in Russia have reportedly fallen by as much as half in dollar terms.
"The American embassy in Armenia is also actively participating in the current events in Yerevan," Morozov told state news agency RIA Novosti.
Liberal commentators have in turn blamed the Kremlin. Opposition activist Vsevolod Chernozub tweeted a photograph of Sechin, who heads state oil champion Rosneft as well as Inter RAO, with the caption, "The State Department puppet whose company suggested raising electricity prices in Armenia by 40%."
Speakers at the rally in Yerevan have reportedly denounced the idea that they were being influenced by foreign organisations or governments, and protesters have tweeted that they were simply opposing the price hike and that the demonstrations should not be compared to the Euromaidan protests in Kiev.
Although some protestors had waved European Union flags, Torosyan said they included people from all political backgrounds. This week's events are the first major protests since demonstrations over the presidential election in 2008, he added.
"It's new people who are taking part, people themselves who use these services, they are coming out on street," Torosyan said. "There are not just poor people, there are middle class, nationalists, liberals. It's a very wide swath of society, and there are no political overtones."
Torosyan said he planned to join protestors again as they assembled on Wednesday evening.
Alexei Malashenko, a Caucasus and Central Asia expert at the Carnegie Centre in Moscow, called the Yerevan demonstrations "ordinary economic protests," but said Armenia's economic situation would likely remain bad.
"Sargsyan only just signed documents with Putin that Russia will sell Armenia cheap gas, and everyone was happy," Malashenko said, referring to a 2014 deal for customs-free sale of oil products that the federation council on Wednesday extended until the end of 2015. "Then they raise electricity prices, no one likes this, and they hold up EU flags… Will there be a Maidan in Armenia? I doubt it, but the fact they harshly dispersed protestors has grown the demonstrations."
Source: http://www.theguardian.com/