Peace talks ended Monday without a breakthrough.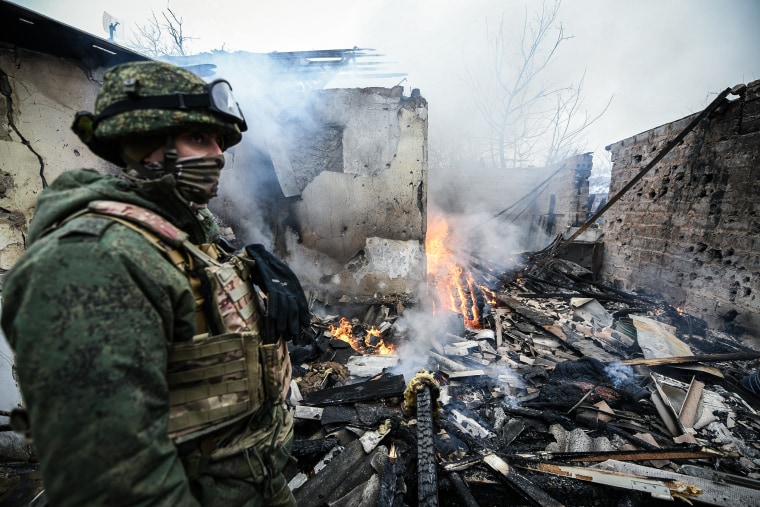 Damage due to armed conflict between Russia and Ukraine in the Donetsk region under the control of pro-Russian separatists, eastern Ukraine on Feb. 28, 2022. Anadolu Agency via Getty Images
By NBC News
The International Criminal Court said Monday that it will open an investigation into whether Russia has committed war crimes and crimes against humanity in Ukraine, hours after peace talks in Belarus ended without a clear resolution and shelling continued across Ukraine.
According to Ukrainian officials, Russia hit residential areas of Ukraine's second-largest city, Kharkiv, with heavy shelling Monday, an apparent escalation of the Kremlin's assault just as officials from both sides met for talks.
The Western response has been swift and unrelenting. Widening sanctions roiled the Russian economy Monday, forcing its currency, the ruble, to crater to a level around 30 percent against the U.S. dollar.
Follow our in-depth coverage of the Russia-Ukraine crisis here.
Zelenskyy: 'Fair negotiations can only happen when one side is not shooting at the other'

Dennis Romero
1h ago / 3:22 PM PST
Ukraine President Volodymyr Zelenskyy said that effective diplomacy can not happen while invading forces from Russia continue their assault.
"Fair negotiations can only happen when one side is not shooting at the other one during the exact time the negotiations are happening," he said in a translation of a video message posted via the Telegram communications app Monday night.
During Monday's diplomatic effort requested by Zeleskyy, Russian forces were accused of inciting Ukraine's second-largest city, Kharkiv. 
Moscow said both sides had "heard" each other at Monday's meeting.
Zelenskyy read off the names of dead soldiers to punctuate his condemnation of Russia's onslaught. The leader asked the world to help close off airspace to Russian air offensives. 
"The evil, that is armed with missiles, bombs, and artillery, must be stopped immediately, destroyed economically, to show that humanity can defend itself," Zelenskyy said.